Georgia O'Keeffe had such a prolific career and interesting life that one little blog post would not nearly be enough to talk about her. Still, that's not the reason I did things this way for Artist of the Month this time. Life got all kinds of crazy in November and I needed help writing! What to do??
As it turns out, a lot of content creators use AI to generate their copy. It can be used for any point in the process, whether it's coming up with blog topics, generating ad copy, or fleshing out a complete article. I wanted to see how well AI could write an informative blog post on Georgia O'Keeffe, hopefully giving you some facts you didn't know without going too far into detail.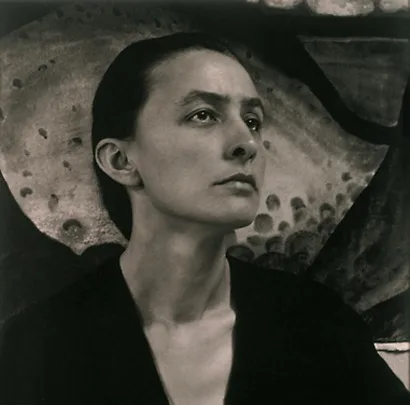 I Tried Three Different (Free) AI Writers
The short answer is that AI was only able to do so much with the project. That being said, you get what you pay for and I only tried free options. I'm wasn't compensated by anyone for doing this, I just had to get it done!
Rytr
First up was Rytr, which lets you generate up to 10,000 characters (1500-2000 words) per month or free. You can generate a post section by section, but when the results aren't so great you may find yourself burning through your character limit. It did a great job of generating introductions, but anything past that was very general and used a lot of words to say very little. BUT, I think if I spent more time with it I could make it work – it's super easy to use. Rytr also has the cheapest paid plan at $9 per month where most others start at $29.
Simplified
Simplified lets you complete a blog post section by section and caps you at 3,000 words per month. It has loads of other services and features, but it did get some facts wrong in my blog post and started repeating itself after a while.
Smart Copy (Unbounce)
Smart Copy works on a credit-based system, giving you 40 free credits per month to work with. Unfortunately, the writer only comes with a paid subscription, but you can get a free three day trial. It costs one credit every time you generate copy, but it stinks when you don't get good results and you have to try again. That can burn through those credits pretty quick! Still, I got the best "first-try" results from this service.
The Article AI Wrote About Georgia O'Keeffe
So which service did I use? All of them! Most of it came from Smart Copy, but there's a little of all of them in the biography. It doesn't go at all as far deep into Georgia O'Keeffe's life as I would have, but I think using AI for that would take more massaging and more money.
I still think it came out okay and I plan to use AI for other things in the future. Let's be real here, writing all this extra stuff about writing is taking just as much effort as it would have to just write the darn article. At the end of the day, it didn't really save me much time – it just made things easier since I'm not cross-referencing and fact checking.
Anyhoooooo… here's what AI wrote about Georgia O'Keeffe: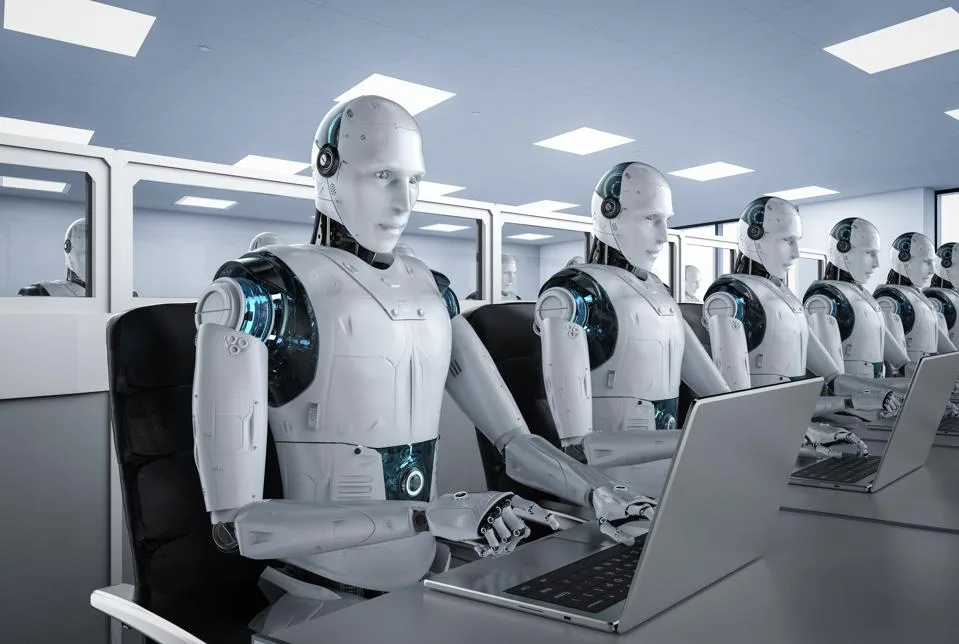 The Life and Career of Georgia O'Keeffe
Introduction
From her abstract flower paintings to her Southwestern landscapes, Georgia O'Keeffe was an iconic American painter who left an indelible mark on the art world. Her life was as inspiring as her artwork, as she continually pushed boundaries and explored new artistic visions. In this blog article, we'll explore Georgia O'Keeffe's life and career, and take a closer look at the woman behind the art. Her story is sure to move and captivate anyone who loves the world of art.
Early Life
Georgia O'Keeffe was born on November 15, 1887 in Sun Prairie, Wisconsin. She was the second of seven children born to dairy farmers Francis Caledonia O'Keeffe and Ida Totto O'Keeffe. Georgia showed an interest in art at a young age and even sold her first charcoal drawing at the age of 14. She went on to study at the Art Institute of Chicago and later the Art Students League of New York. 
Both of these institutions exposed her to different styles of art, including the basis for her future signature style – abstraction. In 1908, she transferred to the Virginia School of Art and completed her degree in just two years. After graduation, she took a teaching job in Texas to help support her family.
Career
In 1916, O'Keeffe moved to New York City to pursue her art career. She met photographer Alfred Stieglitz who would become her biggest champion and mentor. In 1918, he gave her a solo show at his art gallery, which was hugely successful. Her work attracted a lot of attention, both positive and negative. Some people were intrigued by her paintings, while others found them shocking and explicit.

Despite the mixed reception, O'Keeffe's career continued to thrive. In the 1920s, she made several trips to the American Southwest, which would become a major source of inspiration for her. She was fascinated by the landscape and Native American culture of the region. She even built a home and studio in New Mexico, which she called Ghost Ranch.

In the 1930s and 1940s, O'Keeffe's health began to decline, but she continued to paint.
In 1946, she had to stop working altogether due to macular degeneration, a condition that caused her to lose her eyesight. Despite this, she continued to live independently until 1984 when she suffered a stroke. She died in 1986 at the age of 98.
O'Keeffe's Legacy
Georgia O'Keeffe was an iconic artist who left a lasting impression on the art world. Her life was as inspiring as her artwork, as she continually pushed boundaries and explored new artistic visions. While she is best known for her flower paintings and Southwest landscapes, her work spans a wide range of genres and styles. She is truly a master of American art.
But What About the Project?
If I didn't have time for the article, then of course I didn't have time for the project this month either. Not worry – AI has that covered too! I used the starry.ai app (another service that uses credits – you get five free every day) to generate some images. You can pick prompts, artists, styles, media, and even a starter image if you like. It took three tries to get some O'Keeffe-esque art, but AI still made some pretty art along the way – and it did it despite a couple of typos – whoops!
Group 1
The first prompt, "Flowers, Georgia O'Keeffee, oil on canvas", generated some pretty flower paintings, but her flowers were closeups.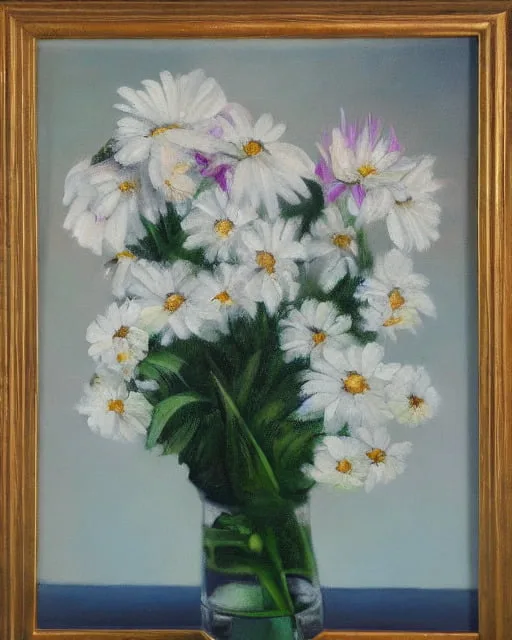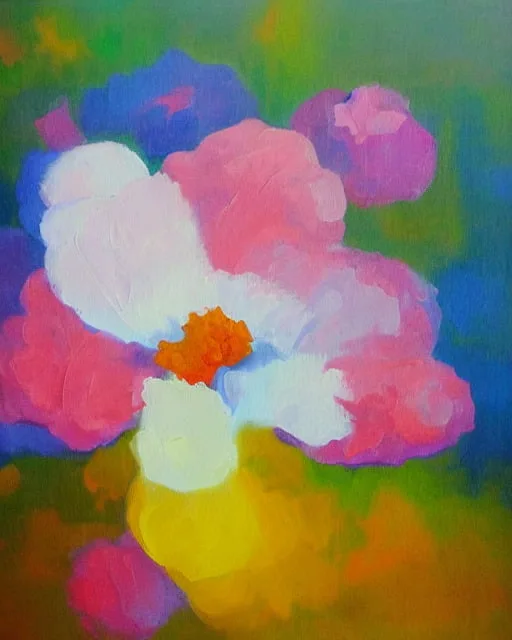 Group 2
The prompt for the second group was "Close up of flower, oil on canvas, watercolor". Georgia used watercolors early in her career before switching to oil so I thought that might help. The result was a little closer to what we want, but not quite there. I can't remember if I left out "Georgia O'Keeffe" on purpose or not, so I'm just going to say I had a good reason to!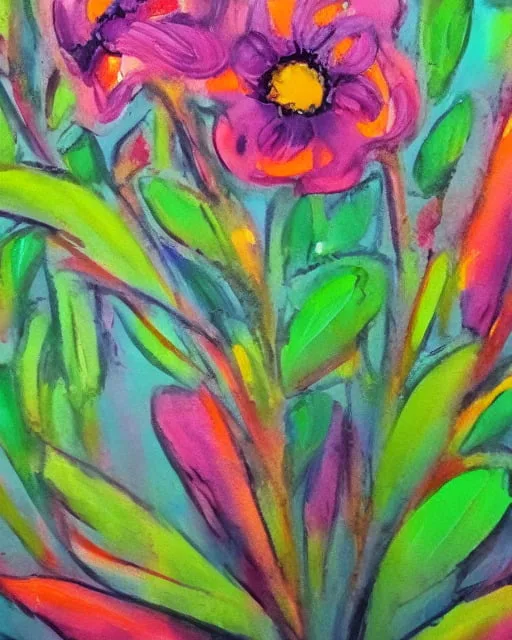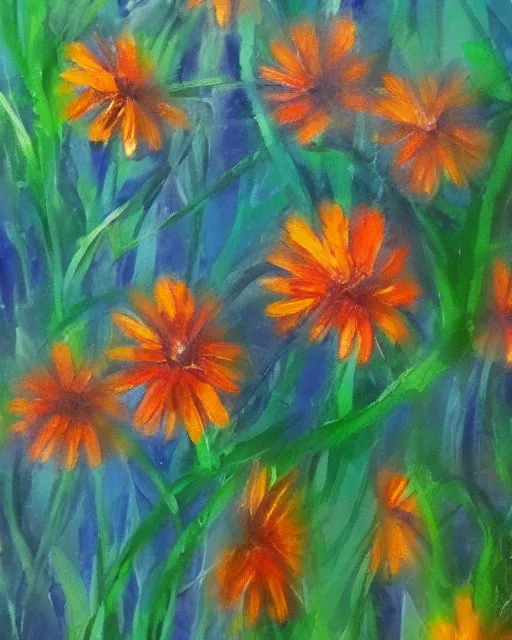 Group 3
The last group turned out pretty neat with the prompt "Extreme close up of flower, O'keeffe, oil on canvas, watercolor". I don't know if I'd call these extreme close ups, but they're still pretty cool.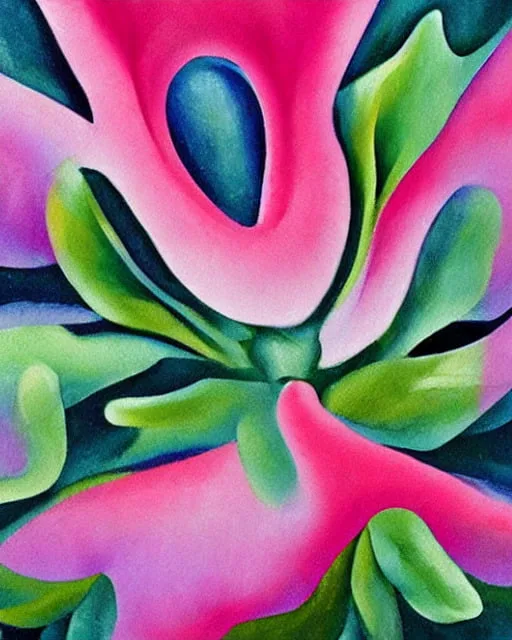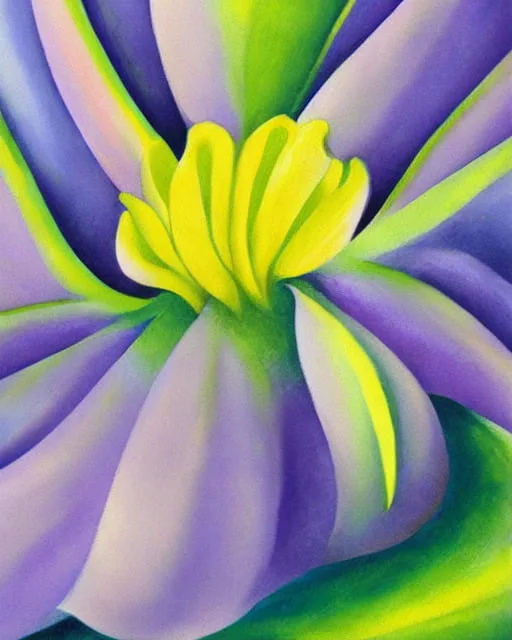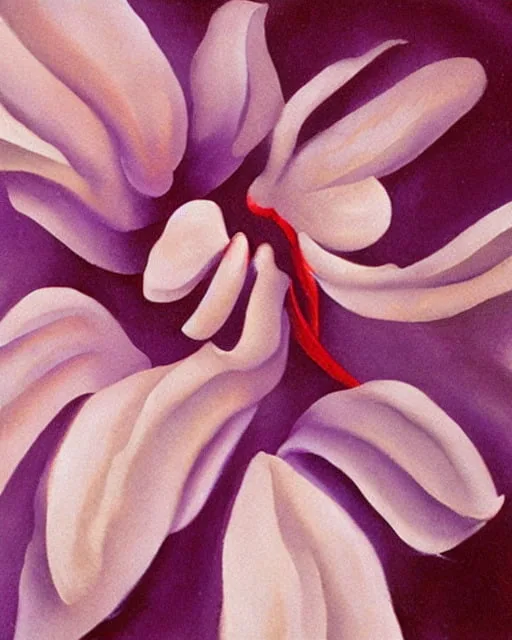 Conclusion
AI did pretty well, right? Still, it barely mentions Alfred Stieglitz and doesn't talk about her impact on feminist movements and the sexualization of her art. I added in a couple of images because we're talking about art (and we gotta SEO the thing…).
The resources I was using for the original post are listed below. For a more serious look at Georgia O'Keeffe's work, check them out. I also highly recommend this book. It's a fantastic read and includes a look at the correspondences between Georgia and the people in her life.
Thank you so much for reading! Don't forget to check out the other Artist of the Month posts. They go back to January of this year!
Sources
https://www.okeeffemuseum.org/about-georgia-okeeffe/
https://www.georgiaokeeffe.net/
https://www.theartstory.org/artist/okeeffe-georgia/